Have you ever wondered what it would be like to have a personal assistant or robot do your tough writing assignments for you? Imagine your own Hal 9000, Cortana, or Jarvis to help you write essays or articles. Most bloggers have, heck I know I have dreamt of my own AI assistant, which is why Jasper.ai was created to help editors, writers, and bloggers alike get rid of their writer's block and create content faster.
Jasper.ai is being hailed by some as one of the best tools for digital creators and marketers, but it does come with a few setbacks. In this video, I'll explain some of the best and worse reasons to invest in Jasper.ai.
This video will help you learn all about this new AI tool and whether or not it's worth it for you, and if it lives up to the hype. Before I continue, make sure to hit our subscribe button and tap on the notification bell so you can receive updates on all of our future Blogger Hero videos! Now, on to the content.
What is Jasper.ai?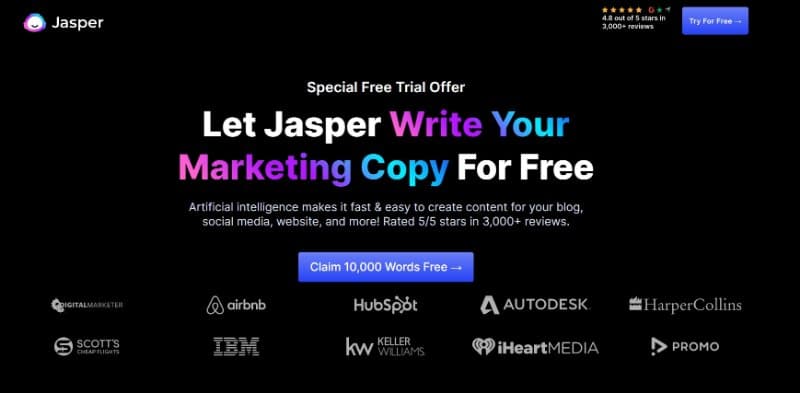 Jasper AI was created by Dave Rogenmoser and released in January 2021. The same team that created Jasper.ai is also the same team that created Proof, which is known for converting leads into sales and increasing revenue for many businesses!
Before Jasper.ai, there was Conversion.ai and Jarvis.ai – totally not the same as Tony Stark's Jarvis, but whatever. These platforms have since become the well-known Jasper.ai tool that uses artificial intelligence to create blog posts and content for digital marketing and bloggers. Jasper.ai is a tool that allows users to create a document that, (it claims), can rank high, integrate keywords, and be relevant to a topic.
It can also be used to create digital artwork in less time than it would take a traditional digital artist.
To do so, you can use the Jasper.art feature and tell the AI tool what it is you need to create. You can create digital art using a variety of styles, such as pop art or futuristic art. Jasper.ai will then take your written request and create a picture that can be used in a thumbnail, on your website, or anything in between.
See Related: Best Content Writing Tools for SEO Domination
Is Jasper Legit?
This program might seem like a dream come true or even too good to be true. However, I'm here to tell you Jasper is absolutely real! It has been used to create content for companies like Airbnb, Google, IBM, Logitech, and Harper Collins, and even use from time to time.
Jasper itself has over 1,200 reviews on Google with a 4.9 score, and also has a 4.8 on trust pilot with over 3,000 reviews! To answer the question, based on these numbers, Jasper is legit, and it might seem to be one of the best-kept secrets for digital marketers. More people are now starting to realize the power and potential of Jasper.ai, with the e-commerce world and digital marketing growing significantly, with the dawn of mass content created by AI.
How Does Jasper Work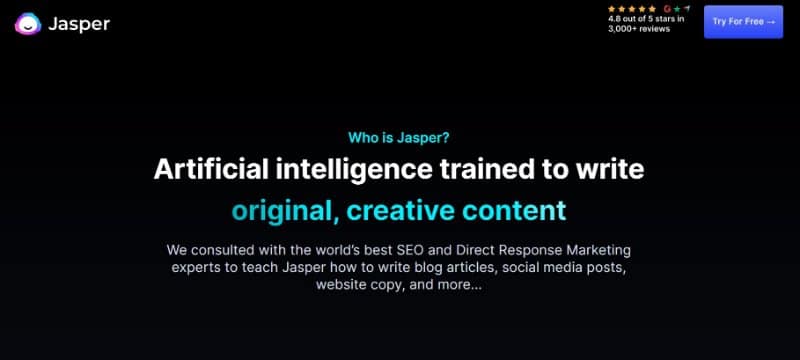 Now, on to the big question, how does Jasper work exactly? While we can't know the specifics of how Jasper's software is built, we do know that it uses artificial intelligence to help create copy for advertisements, digital marketing, blog posts, and even authoritative articles. You can even use it to create long-form books!
Best of all, it's easy to use with a simple interface and simple-to-follow instructions and video tutorials. When first getting a Jasper account, it will ask you to input your company's information along with your existing domain. Sign up for a free trial by clicking on the link in the description below!
After you sign up for your trial, you can browse through the different videos or get started on creating content such as blog articles, a blog post intro paragraph, a blog post conclusion paragraph, landing pages, and even just blog post topic ideas.
Boss Mode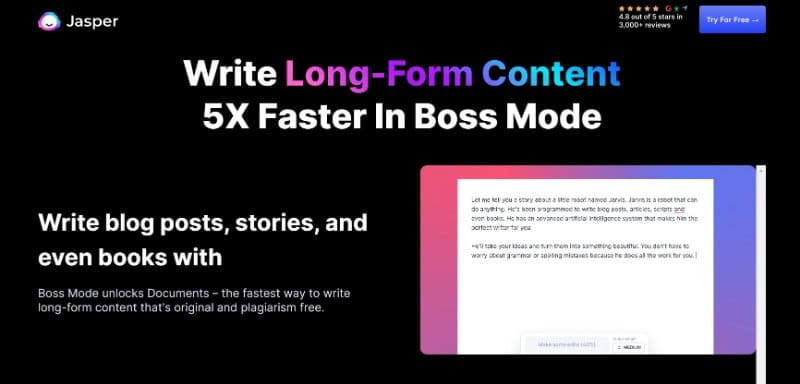 To create content, we recommend getting a free trial or signing up for the "Boss Mode" trial. Boss Mode allows you to create content using long-form documents, allowing you to write up to 100,000 words with Jasper.
Jasper's Boss Mode will allow you to open up a document, which you can see on the left-hand side board.
Simply click on the tab that says "documents" and click on the plus sign. If you have a solid outline in mind, you should start by using the "Start from Scratch" feature.
This is best for long-form content and to create unique content for your website. This is a good tool if you have a set idea in mind for how you want your article to look and sound.
See Related: Best Marketing Strategies for DTC
Blog Post Workflow

Alternatively, you can select the "Blog Post Workflow" feature for creating long-form content such as blog posts, social media posts, and landing pages. This allows you to input information on your blog and generate ideas.
For instance, if you need help getting a title, a description of the content, and even writing an introductory paragraph, Jasper will give you ideas on how to start. Simply input the information you want into the fields, and select "Generate ideas" to see possible variations. If you've already done extensive keyword research and need to include certain keywords in your content or headlines, this might not be the best feature.
Whether you select the Start from scratch or Blog Post Workflow feature, you will then be directed to the document editor. On the left-hand side, you will notice there are a couple of fill-in boxes where you'll be inputting the information you Jasper to create.
The title is self-explanatory. Leave it on for Jasper to create content, or use the toggle-off switch so Jasper ignores the title altogether (I'll talk about why you might want to do this in the pros and cons section later in the video).
After the title box, you'll notice there's the content description/brief in the middle. It was a bit tricky trying to find out what to put into this box, but the best way to use it is if you're thinking like an editor.
Let's say you hire a writer to write a piece on the best car models of 2022. How would you explain what you need to them in the simplest terms? This is what you need to tell Jasper in the content brief box.
For instance, you can write things like, "Write about the 10 best cars to drive in 2022," or, "Write about the best restaurants located in Memphis, Tennessee." These are just some examples, but you get the idea.
The instructions shouldn't be exhaustive. You might find this difficult to believe, but Jasper really only needs a brief description to get started on creating content.
After you've given the content brief, use keywords to tell Jasper what to include in the writing. For instance, you can use keywords like "Car," "2022," and "Urban" for your article on the best 2022 model cars.
Notice that you can only include 3 keywords, which some of you might know isn't ideal for the O in SEO. But, it does give Jasper an idea of how to create your desired content.
After you've input your fields, click on command + J at the same time if you're on a Mac or Control + J if you're on a PC to generate AI content. Then, watch Jasper work its magic, creating content paragraph after content paragraph in seconds.
If you need to shorten or increase the number of words Jasper is producing, then you can change the output length to small, medium, or large sentences. You'll see these as "S," "M," and "J" on the left-hand side of the screen.
See Related: Steps to SEO Optimize Your Blog Posts
Jasper Recipes
Jasper recipes are a collection of templates that help you get started with Jasper.ai. These recipes are free to use and can be found in the "Jasper Templates" tab on the homepage. These templates are easy to use, and there's even a search feature if you want to find a specific recipe or type of template.
Jasper.ai and Surfer SEO Integration
In addition to being able to analyze your website, Jasper.ai also integrates with Surfer SEO, which is a keyword research and on-page SEO tool that provides data on search volume trends and the best time to publish content for maximum exposure. You can use this functionality by turning on the "Integrate with Surfer SEO" option in the settings tab of Jasper.ai.
After you enable integration, when you select a keyword from the list of suggestions that appears after you type in a URL or paste some text into their search bar, it will automatically load up all of the relevant keywords that are associated with it in Surfer SEO's database.
This can help give you an idea of what kind of terms people are searching for on Google so that when deciding which ones would be best suited for your audience and goals.
Pros and Cons of Using Jasper.ai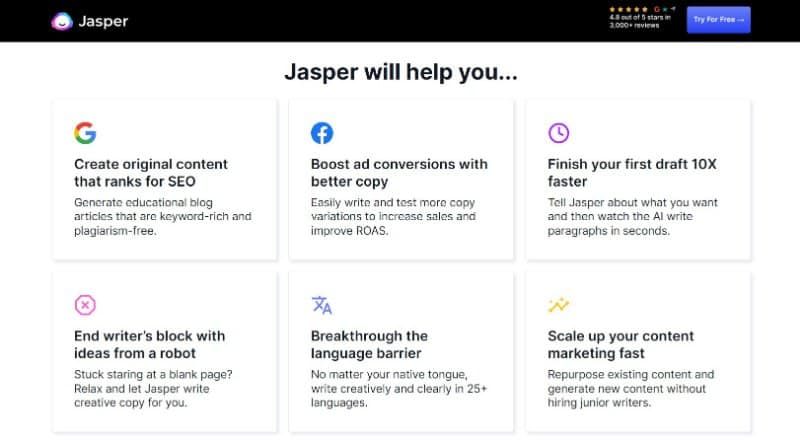 Now, the moment of truth, the pros, and cons of using Jasper.ai.
Pros of Using Jasper AI
Let's start with the pros. I'd be lying if I didn't say I was initially absolutely blown away when using this tool. One of the best pros about this tool is that it has easy-to-follow instructions.
I was able to create my first piece of content within 15 minutes. Another great feature is just how fast Jasper.ai writes content. It can create a long-form article of around 1,500 words in just under 30 minutes, which is a great way to save time and energy.
You don't have to do the research since Jasper.ai fills your content up with loads of information. Another great thing about Jasper is the sheer amount of work it can do and its many varied uses for copywriting.
It does the work of a writer in less time and can create content including:
Digital art for thumbnails and logos
Advertisements
E-mails
Websites
Listings
Blogs
Another great feature is its ability to integrate into Surfer SEO, another great content-creating tool. I have a video on that on this channel, so you can view that later on.
Finally, and this is perhaps another big pro, is that all content created by Jasper is 99% original. This means you won't have to worry much about plagiarism or getting flagged by Google for duplicate content.
Unfortunately, if you're working with an outside writer, there's no telling whether or not their work is plagiarized unless you use Copyscape flags. Even then, it's a waste of time and money.
See Related: Best Marketing Tools for Small Business
Cons of Using Jasper AI
Now on to the cons. Arguably, the biggest con for beginner creators is the pricing. Jasper pricing varies from around $49 a month for the starter tool to $99 a month for the boss mode tool, which is absolutely worth it.
There are no free pricing options, which makes it hard for those that are on a super tight budget. But, in all fairness, $99 is much less than you would spend hiring a team of writers to create content for you.
That brings me to my second con. While Jasper does use AI to generate content, it does have flaws. For one, you might notice in the long-form articles that Jasper creates that it can begin to repeat itself. When it does this, there's a simple fix.
Remember that toggle switch that hid the headline? Hiding it from Jasper prevents Jasper from circling back to the headline and creating repeated content. You can also change the description in the brief and create more specific instructions.
But, this is also a bit of a time waster and not a problem you would have if you hired a professional writer. Also, you'll need to fact-check some of Jasper's facts and believe me, there will be a couple that doesn't pan out.
Then, there's the scalability of Jasper. Its Boss Mode plan supports around 100,000 words a month, but if you produce 50 articles at 2,000 words a month, that's all you get – just 50 articles, and even less if you plan for longer posts. This might be a problem for bigger businesses but can be helpful for smaller bloggers.
Finally what is perhaps the most frustrating con of all is that you will still need to edit Jasper's work. On the one hand, duh, you should proofread everything you're about to publish, no matter who or what wrote it. But sometimes, dear old Jasper just comes up with such gibberish, you'll wonder why you didn't do the research and the writing yourself.
"The 750 foot Star Dune is stunningly high – especially when one looks at it."
"It includes over 100 summits above 10,000 meters such as Longs Peak, which is the highest peak in the park at 144,559 feet."
"Margaret Brown has long been known to have been the slain woman on Titanic."
"The highway is also a popular cycling trail, where the hearts of people plow up to lookout spots."
Some of this may come down to what you're putting into Jasper (although those entries came from the not-so-complicated keyword "Best Things to Do in Colorado"), but it's also worth noting that Jasper is still really new at this and, is literally, still learning. Give the kid a chance.
See Related: A Good Way to Approach SEO
Jasper AI Review Conclusion
All in all, I really enjoy using Jasper.ai and I think it's a good tool to get rid of writer's block, build the foundations of an article and give you some great ideas. That said, you'd be as mad as a hatter for thinking that you can create perfect, publishable long-form content by just entering a few keywords and letting Jasper do its thing.
Let's just say I'd find it interesting to see what it'd come up with if I fed it the keywords; "Jasper.ai Review: Is It Legit?" But who knows? We're at the dawning of the AI era, and Jasper is just getting started! Jasper is already a powerful tool if used sensibly, and as it learns and sees further development, the only way is up.
If you're looking to create a ton of content quickly it's a great investment into your digital marketing and blogging business, and one that I think can pay off sooner rather than later. Get your free trial of Jasper and try this tool yourself.
FAQ
Is Jasper.ai legit?
Jasper.ai is a legit tool to use. It's not free, but Jasper.ai is a paid tool that works well enough to be worth the price tag. Jasper.ai does what it says it does, and it does so well enough to be worth the investment for anyone looking to quickly create content.
How much does Jasper.ai cost?
Jasper.ai has a monthly subscription plan that costs $49 per month and also a monthly subscription plan that costs $199 per year.
Additionally, there's also a free trial available for new users who want to test out their AI writing tool before signing up for any plans; however, this option doesn't come without strings attached: You must provide credit card information during signup so that Jasper can charge you if you end up deciding on one of its paid plans after all.
Is Jasper.ai worth the price?
Jasper.ai is a powerful tool that will help your business when it comes to content creation. It's also a great AI copywriting tool for social media posts, blog posts, and social media marketing.
The price of Jasper.ai depends on the package you choose, but it starts at $49 per month for the Starter plan and goes up to $199 per month for the Pro plan.
It's important to note that you don't have to pay anything upfront if you sign up for their free trial to give it a test run if you'd like.
Related Resources